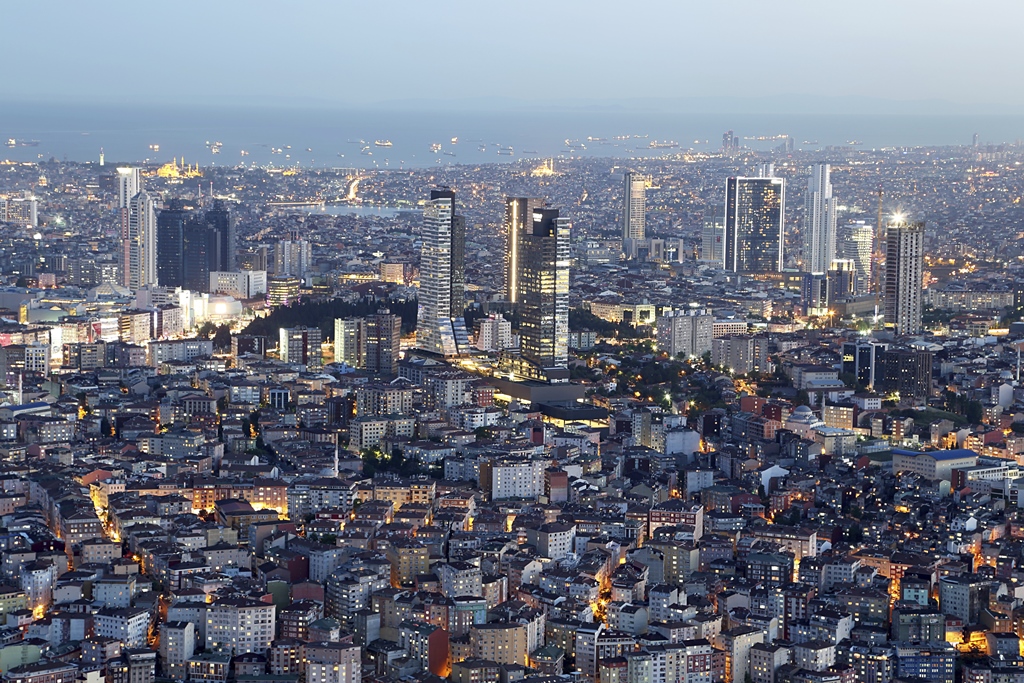 Istanbul is enjoying strong economic performance and a highly favorable business climate. The city is a dynamic economic engine of growth, with a diversified structure and international recognition. Istanbul has maintained its strong position internationally, in addition to boasting a recognized city brand.
According to the Wealth Report 2017 of Knight Frank the number of ultra-high net worth individuals, who have at least US$30 m, is 740, which ensures the Istanbul's spot among top 40 global cities. Moreover, one legacy of the Arab Spring is the enhanced status of Turkey as a safe haven for investors from the Gulf Region and North Africa. This, added to the country's strong economic growth rate, has propelled Istanbul higher in the rankings of the several reports.
A City of Inviting Possibilities
Over the past 15 years, Istanbul's economy has experienced rapid structural change. Istanbul's defining economic role has evolved from a service center to a dynamic urban center with strong, multi-faceted international connections that have strengthened dramatically with the rise of Turkey's broad vision. The economy is now highly diversified thanks to strengths in many new areas including significant clusters in knowledge-based sectors.
The rise of high-tech industries in Istanbul has paved the way for globally competitive companies selecting Istanbul as their headquarters. Entrepreneurial activity is a crucial measure for Turkey as the country aims for a transition from an efficiency-driven economy to being an innovation-driven economy. Istanbul is, without question, a tempting market for entrepreneurship.
It is strategically located between key markets in Europe, the Middle East, Russia and Central Asia. There is absolutely a real and serious entrepreneurial ecosystem in the city, thanks to its young, educated, and risk taking workforce.
The ecosystem is supported by business angel networks and the government. The latest regulations passed in the parliament paved the way for entrepreneurs and business angels to reach their goals with fewer obstacles.
Istanbul is Full of Entrepreneurs
Turkey is rapidly emerging as a high-growth market for many businesses. Istanbul is the locomotive of this fascinating economy, offering many and varied opportunities. As European cities struggle to recover from the recent global crisis, Istanbul enriches its FDI portfolio toward new horizons.
After 1980s, Istanbul decided to transform its economy by shifting the focus away from low-cost manufacturing to knowledge based industries and high-value-added services sector in order to keep up with global developments and remain competitive as an investment location.
Big Ambitions
According to the Independent, a world renowned newspaper, as the only city in the world that straddles two continents, perhaps it's no surprise that Istanbul is filled with contrasts. While its opulent palaces and ancient domes pay homage to the bygone Byzantine and Ottoman Empires, the Turkish financial capital is a cosmopolitan hub with design-driven hotels, a lively nightlife and a strong contemporary arts scene. The city was thrust into the spotlight in 2010 when it was named European Culture Capital.
Istanbul is Turkey's economic heartbeat. Here you'll find the Borsa Istanbul (BIST), the headquarters of Turkey's largest companies, the offices of major global firms such as Citibank and Merrill Lynch, as well as the bases of manufacturing plants producing clothing, tobacco and industrial goods.
Istanbul becomes the 9th major European city regarding Business Friendliness
fDi Magazine, which is the economics magazine of Financial Times focusing on foreign direct investment, has just released the "European Cities and Regions of the Future 2018/19" report. The report seeks to find the most promising cities and regions across the whole of Europe, not just those that belong to the EU.
Istanbul has collected 2 prestigious awards, which are "the 9th major European City of the Future 2018/2019 regarding Business Friendliness" and "the Best Southern European City of the Future 2018/2019". The index of Business Friendliness is based on 23 judging criteria including total number of high-tech companies, ease of doing business, corporate tax, strength of investor protection index, and so on.