The ISTKA project aims to draw international entrepreneurs to Istanbul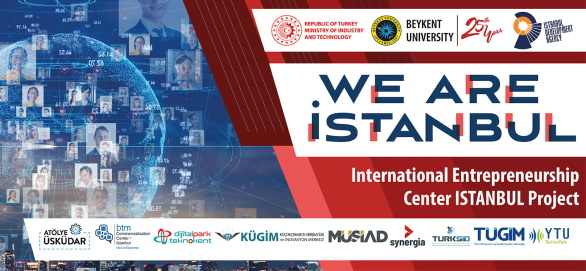 10.04.2023
The "International Entrepreneurship Center: Istanbul" project is being implemented with the support of the Istanbul Development Agency (ISTKA). The project, carried out by Beykent University, will provide international entrepreneurs infrastructure, methodology, consultancy, and mentoring services, making it easier for them to enter the Turkish market.
As part of the project, an International Istanbul Entrepreneurship Center will be established in Levent. Entrepreneurs will receive support in all processes, from being assigned an office to the provision of legal addresses, and activities ranging from training and mentoring services to business development, networking, and more. Additionally, an agency will be established to create content for businesses and facilitate investments in Türkiye. Digital content in Turkish, English, and Arabic will be developed to promote Istanbul's potential.
International entrepreneurs and entrepreneur candidates residing in Türkiye, students, foreign investors interested in investing in Istanbul, investment groups, angel investor networks, and venture capital funds can all benefit from the project.
The goals of the project also include holding a Start-up Acceleration Program open for online participation from abroad, an Entrepreneur-Investor Twinning Program, training programs, interviews, and the International Istanbul Entrepreneurship Summit. The aim is to develop ten different international collaborations and establish 100 new international enterprises in Istanbul during the project.
The Üsküdar Municipality, Yıldız Technopark A.Ş., Independent Industrialists and Businessmen Association (MUSIAD), Küçükçekmece Municipality, Recep Tayyip Erdoğan University, Turkish German University TGB Yönetim A.Ş., ICOC Commercialization Center Foundation, Synergia Levent Office Services, All Entrepreneurs and Business Mentors Association, and The Association of Crimean Tatar Business People of Türkiye, Romania, and Ukraine (TURKSID) have also contributed to the project.
Erkam Tüzgen, ISTKA Secretary General, commented on the "International Entrepreneurship Center Istanbul" project, stating, "Entrepreneurship is the driving force of development, contributing to employment, productivity, and growth. At ISTKA, we strive to create an entrepreneur-friendly environment for both local and foreign entrepreneurs in Istanbul. We aim to support entrepreneurs by providing them with necessary business opportunities and by easing their obstacles."
Last year, start-ups received the highest amount of investment in Türkiye, and this trend has continued to increase this year. When we examine the success stories of start-ups on a global scale, it is evident that the location of the company's founding is no longer a significant factor. Entrepreneurs have discovered the international market through technological advancements, and internet have made the target market accessible from anywhere. Therefore, even small enterprises now strive for the global arena. Istanbul offers numerous opportunities to meet the needs of tech entrepreneurs and has become the fourth city in Europe with the most investments after London, Berlin, and Paris in terms of the number of investments in 2021. As ISTKA, we have supported this project to make it easier for international entrepreneurs and investors to join the Istanbul ecosystem and contribute to Istanbul's brand value as an international entrepreneurship center."
The Rector of Beykent University, Prof. Dr. Murat Ferman, also participated in the "International Entrepreneurship Center: Istanbul" project to help Istanbul reach its rightful place as an entrepreneurship center on a regional and global scale. Infrastructure, content providers, and actors will come together and work within the framework of a sustainable program. These include enterprise centers, incubators, accelerators, co-working areas, techno-cities, training providers, consultancy and mentoring services, universities, local governments, investors of all sizes, entrepreneurs, mentors, consultants, managers, and others.
Entrepreneurship centers established in various regions of Istanbul will be catered to international entrepreneurs, by implementing multilingual programs in English, Arabic, and other languages. Guidance tools such as videos, printed materials, and websites, as well as consultancy services for business development, mentorship, and other facilitation mechanisms will be developed within the framework of legal legislation related to entrepreneurship in Türkiye. The International Istanbul Innovation and Entrepreneurship Summit will also be organized, and a promotion unit producing multilingual content will be established to increase Istanbul's brand value as an international entrepreneurship center. Moreover, qualified individuals who can take up technology and innovation-based entrepreneurship among the millions of foreigners currently residing in Türkiye will be identified and incorporated into the entrepreneurship ecosystem within the legal framework. The project has brought more than 50 international entrepreneurs to Istanbul in less than three months since it started. As Beykent University, we are pleased to lead such a project together with other stakeholders.